The Light of the World (1851–1853) is an allegorical painting by the English Pre-Raphaelite artist William Holman Hunt (1827–1910) representing the figure of Jesus preparing to knock on an overgrown and long-unopened door, illustrating Revelation 3:20: "Behold, I stand at the door and knock; if any man hear My voice, and open the door, I will come in to him, and will sup with him, and he with Me". According to Hunt: "I painted the picture with what I thought, unworthy though I was, to be divine command, and not simply a good subject."[1] The door in the painting has no handle, and can therefore be opened only from the inside, representing "the obstinately shut mind".[2] The painting was considered by many to be the most important and culturally influential rendering of Christ of its time.[3]

Source: https://en.wikipedia.org/wiki/The_Light_of_the_World_(painting)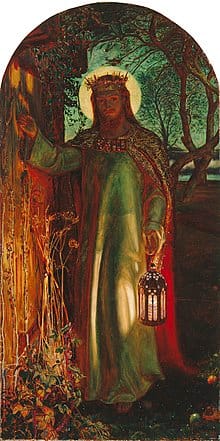 This image was shared with me by a close friend last Wednesday, and I'd like to share it with you.
In the picture, Jesus Christ knocks on a door. The door in the painting has no handle and can only be opened from the inside.
Yes, this does sound very familiar. And I know you know what it is.
Yes, it is the door of your heart.
As Jesus knocks, he patiently waits for us to open it for him. He does not force us. Yet, he knocks for us to open our hearts and ourselves to him.
Have you heard him knocking? Will you let him into your heart and life?
Prayer
Father in Heaven, I believe that you are listening to me. You know of my doubts and frailties. You know of how I struggled to understand your mystery—one God in three persons.
I pray that you may give me the strength and courage to allow your son, Jesus, to enter my life.
May he come into my life, not as a visitor, but as a family. May he help me restore the clutter in my heart and life as I invite him in.
Father, this I pray through your son's name, Jesus, who awaits patiently knocking on my heart. Amen.